Hundreds of left-wing demonstrators have tried to block people entering a far-right party conference in the German city of Stuttgart.
The Alternative fur Deutschland (AfD) party is expected to re-brand itself as openly anti-Islamic during the meeting.
Police, who surrounded several hundred protesters, fired pepper spray at crowds. Close to 1,000 officers were deployed.
The AfD wants to ban the burqa and outlaw minarets in Germany.
Despite the protest, the conference began as planned on Saturday morning.
In Saturday's conference, the party must agree a manifesto ahead of next year's general election.
Proposals include withdrawal from the euro and the reintroduction of conscription, but there are splits within the party, including between its less hardline wing and the leadership.
Before the conference, police encircled groups of demonstrators in a technique known as kettling. Some protesters were seen being dragged away, with others chanting 'Shame on you' at officers.
Police did not say how many people were arrested.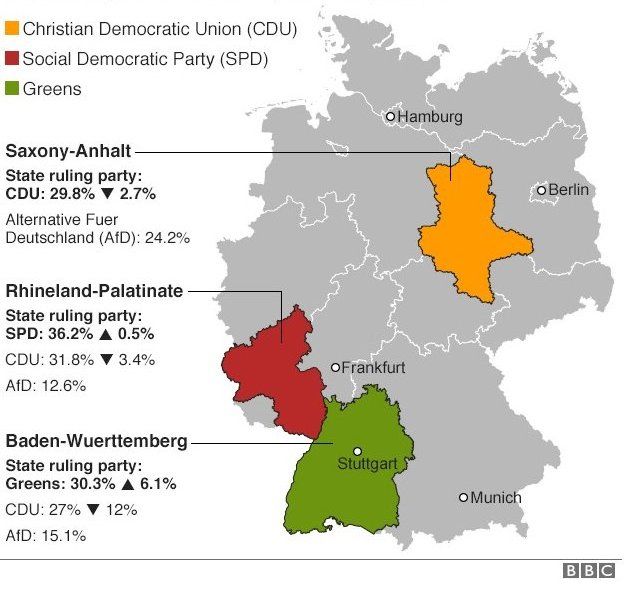 More on AfD
Founded in 2013 by Bernd Lucke, Alexander Gauland and Konrad Adam to oppose German-backed bailouts for poorer southern European countries

Mr Lucke, seen as a moderate, wanted Germany out of the euro but his colleagues were unhappy that he wanted to focus exclusively on euro-related issues

He quit the party in early July 2015, arguing it was becoming increasingly xenophobic

Right-winger Frauke Petry replaced him as party leader

It became the first anti-euro party to win seats in a German regional parliament, receiving almost 10% of the vote in the eastern German state of Saxony in 2014, and went on to win seats in four other states' parliaments in 2014 and 2015

The party had seven MEPs elected in the 2014 European elections (including Mr Lucke), but only two remain party members

AfD was part of the European Conservatives and Reformists Group, like the UK's ruling Conservatives, but its two MEPs look set to be expelled from the group over comments on shooting refugees