By Pavel Aksenov
BBC Russian, Vostochny
"Oh please, darling, fly!"
A technician standing behind me was really nervous during the launch countdown at Vostochny, a new space centre in Russia's Far East.
It was the second launch attempt - a day after the previous one had been aborted at the last minute.
I noticed that some of the technician's colleagues also had pale faces and had crossed their fingers.
It emerged later that a cable malfunction had led to the postponement of Wednesday's launch.
This time there was relief for Russia's federal space agency, Roscosmos, as the Soyuz rocket, carrying three satellites, blasted off and the booster stage separated.
President Vladimir Putin had travelled 5,500km (3,500 miles) to watch the launch and was in a black mood after Wednesday's cancellation, berating Vostochny's managers for the financial scandals that have blighted this prestige project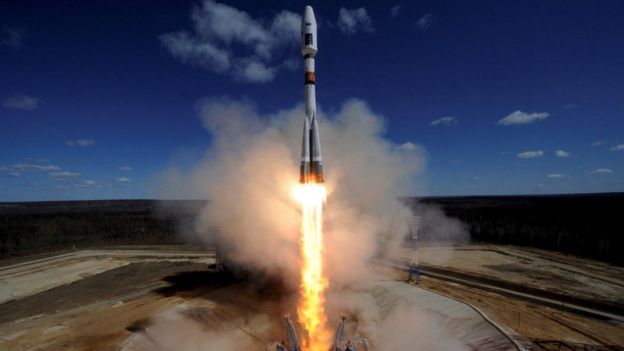 Reuters